Discover the Vibrant Bar Scene of Leeds: Unveiling Popular Hotspots, Hidden Gems, and the Ultimate Bar Crawl Guide!
Introduction to Leeds City Bars
Craving for a unique, vibrant bar experience? Look no further. Welcome to Leeds, a city renowned for its bustling nightlife, where an eclectic blend of bars awaits you. This Leeds bar guide is your ticket to discovering the city's dynamic bar scene, offering something for every preference. Whether you're a fan of indie bars, traditional pubs, or trendy clubs, Leeds has it all.
Strolling through the city, it's impossible to ignore the buzzing energy emanating from every corner. Leeds is a veritable melting pot of creativity, with innovative ideas from cocktail connoisseurs and indie bar enthusiasts transforming the city into a haven for merry-makers. Hidden among period architecture, railway bridges, and secret speakeasy hideaways, you'll find some of the most charming bars in Leeds, each with a unique story to tell.
These bars aren't just about serving drinks—they're about creating unforgettable experiences. From the indie bars that bring an authentic, creative touch to the nightlife, to the pubs and clubs that boast a unique blend of modern allure and rustic charm, each establishment offers something special. Leeds city is proud to host these treasures, each one contributing to the city's colourful tapestry of nightlife venues.
If you're in search of mystery and creativity, or simply looking for a place to have fun and unwind, Leeds has got you covered. This guide will introduce you to the most popular bars and hidden gems in the city, making your night out in Leeds a memorable adventure.
So, are you ready to embark on this journey? Let's dive into the bustling, vibrant world of bars in Leeds UK. Whether you're planning a bar crawl, looking to drink local beers by the River Aire Canal, or wanting to experience the thrill of the city's hidden bars, you're in for a treat. So sit back, relax, and let the Leeds bar guide transport you to the heart of the city's nightlife! Enjoy the ride.
Popular Bars in Leeds
Leeds, a diverse city in the UK, is celebrated for its vibrant bar scene teeming with indie bars, pubs, clubs, and hidden gems that offer a unique blend of Northern charm and innovative drink concepts. This Leeds bar guide explores some of the city's most popular watering holes, each providing their unique blend of ambiance, specialties, and locations.
One of the standout bars in Leeds is Blind Tyger, known for its old-world decor reminiscent of the prohibition era. Located at 5 Cross Belgrave St, this drinking den offers a selection of unique cocktails that promise a memorable experience for your tastebuds. Blind Tyger's "Tropic of Santiago," "Point Break," and "Gods Own Cocktail" are just a few examples of their creative mixology.
Just around the corner from Briggate, nestled among the cobbles, you'll discover Distrikt. This circus-inspired basement bar is famous for its extensive list of serious cocktails and live DJ sets. Its energetic ambiance and free entry make Distrikt a legendary venue and one of the most appreciated bars in Leeds.
If you're after a laid-back venue perfect for a sunny weekend, the Water Lane Boathouse should be on your list. This canal-side location offers a great selection of local beers, wines, and a variety of dishes like pizza, burgers, and salads. It's an ideal place to meet friends and soak up some glorious Northern sunshine.
Adding a touch of scientific fascination to the Leeds bar scene, Alchemist serves up concoctions that wouldn't look out of place in a chemistry lab. Located in the Trinity Shopping Centre and on Greek Street, Alchemist offers a range of cocktails that are as visually impressive as they are delicious.
For those seeking a hidden gem, The Maven is a must-visit. Tucked away on Call Lane behind the Leeds Corn Exchange, this 1920s inspired speakeasy bar offers a range of unique cocktails crafted by award-winning mixologists. It's a place where sophistication meets the roaring Gatsby-style.
Others worth mentioning include Below Stairs, renowned for its storytelling through the art of mixology, Friends of Ham for its superb food and drinks, and Mojo, a lively bar in Merrion Street famous for its extensive drinks menu and infectious music.
Each of these bars contributes to the bustling, diverse drinking scene in Leeds. They offer an assortment of experiences, from sipping on innovative cocktails in a prohibition-style bar to enjoying a sunny afternoon by the canal. Each one holds a unique place in the heart of the city, making them popular choices for locals and visitors alike.
In the next section of our guide, we'll uncover some of the hidden bars in Leeds, offering you a glimpse into the lesser-known, but equally exciting, drinking locations the city has to offer. Then, we'll provide tips for planning a perfect bar crawl in Leeds, ensuring you have a fun and safe experience. So, whether you're a local looking for new spots or a tourist eager to experience the best of Leeds' nightlife, stay tuned to our Leeds bar guide.
Hidden Gems: Lesser-known Bars in Leeds
Leeds, a vibrant city known for its bustling nightlife, is home not just to the mainstream pubs and bars, but also to some intriguing hidden gems that add a dash of mystery and creativity to a night out. This section of our Leeds bar guide shines a spotlight on some of the lesser-known bars in Leeds, their unique features, and why they are well worth a visit.
Tailor's: A Prohibition-Style Hideaway
The Grand Arcade is home to our first gem, Tailor's. This spot successfully captures the essence of the roaring '20s. A classy, bespoke tailor's by day, it transforms into an alluring gin bar when night falls. The gin blend here is inspired by the artistry of traditional tailoring. If gin isn't your cup of tea, they also offer an array of other spirits and 20's style cocktails. The atmosphere at Tailor's is always buzzing, and for those looking to immerse themselves even further, they can don their best 20's attire or pick something from the rails of vintage wear.
Blind Tyger: An Intimate Drinking Den
Our next hidden gem, Blind Tyger, is nestled above its sister-venue Sandinista. This cosy, candle-lit drinking den takes pride in inventive additions to classic cocktails. Its intimate ambiance is perfect for those looking to relax and enjoy some carefully crafted drinks. Their cocktail workshop is also a must-try!
Domino Club: A Taste of the 20s
At Domino Club, you'll be whisked away to the 20s by the thrilling tones of live Jazz and Funk. Concealed behind a backdoor in The Grand Arcade, this hidden, soulful bar offers an extensive selection of avant-garde cocktails like the Afternoon Chai or Midsummer Martini. Don't miss their unique 'break-even spirit' deal which lets you enjoy a measure of an expensive spirit at a much lower price.
Below Stairs and Tiki Hideaway: A Sensory Experience
Below Stairs, found just off Greek Street on South Parade, offers a sensory experience, not just a drink. A perfect off-the-beaten-path bar that will delight drinkers of any persuasion. Just a little further away on Call Lane, Tiki Hideaway is another hidden treasure. With flaming cocktails, a beach hut bar, and a tropical theme, every night here feels like a summer party.
Smokestack: A New Orleans Jazz and Blues Bar
Over on Lower Briggate, Smokestack offers a vibrant jazz and blues scene spread over two floors. The range of signature cocktails here is worth exploring, and their cocktail workshops add an engaging twist to the night.
The Maven: A Sophisticated Vintage Bar
Finally, we have The Maven, discreetly located on Call Lane. This sophisticated vintage bar transforms into a party paradise when the sun sets. Their award-winning mixologists serve up unique takes on classics and delicious gin drinks.
To experience these hidden bars in Leeds UK, don't forget to download the Discover App. Our maps will lead you right to their door! Each of these hidden bars offers a unique experience, perfect for those looking to deviate from the ordinary. For a more adventurous route, consider including these bars in your Leeds bar crawl and remember, drink responsibly and have fun!
In the next section of our Leeds bar guide, we'll provide tips on how to plan a fun and safe bar crawl in Leeds, incorporating both popular destinations and these lesser-known gems.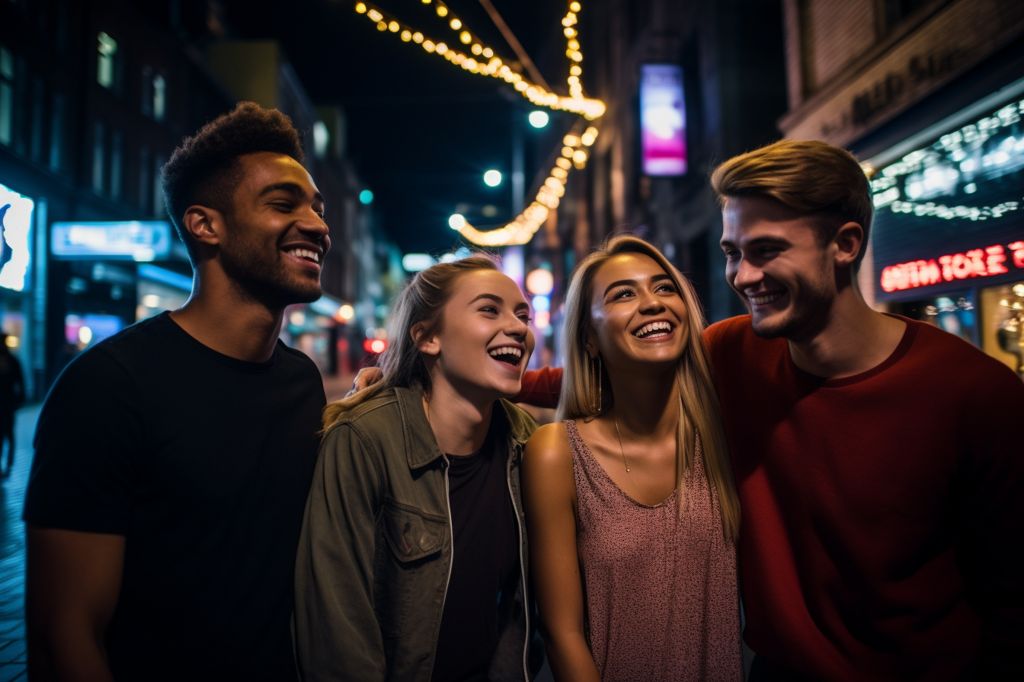 Planning a Bar Crawl in Leeds: An Essential Part of Your Leeds Bar Guide
If you're looking for an exciting and memorable night out in the vibrant city of Leeds, planning a bar crawl through the bustling city centre might be just the adventure you need. Bursting with countless pubs, bars, and clubs, Leeds offers a thrilling nightlife experience that caters to a variety of tastes. From well-known hotspots to hidden gems, here's how you can plan a fun and safe bar crawl in Leeds.
Start with a Plan
Organizing a bar crawl is no small feat. It requires some strategy to ensure a smooth transition from one bar to the next, a variety of experiences, and above all, a safe and enjoyable night. Begin by listing down your preferred bars in Leeds UK, including both popular and hidden ones that you've come across in your Leeds bar guide. Use the Discover App here to find hidden bars in Leeds UK and to embark on the Hidden Bars Trail.
Map Your Route
Once you have your list of bars, plot them on a map and create a logical route. Starting off at the city centre could be a great idea – all the action happens here. You can start with the lively pubs and clubs and gradually move towards the more mysterious, creative bars. This way, you start off in the familiar and venture into the unexpected. The bars on South Parade and Call Lane, including Below Stairs and Tiki Hideaway, are great starting points.
Set a Time Limit
To ensure you get the most out of your night, set a time limit for each bar. Bear in mind, the goal here is to enjoy each bar's unique atmosphere, specialities, and perhaps get a chance to chat with locals or other tourists. Be sure to allocate enough time to appreciate the craft cocktails at Below Stairs or the live music at Smokestack.
Drink Responsibly
Remember, the aim of your bar crawl is not to drink excessively but rather to explore the city's nightlife and have fun. Always drink responsibly, stay hydrated, and remember to eat. Leeds has a fantastic array of restaurants and street food, so there's plenty of options to grab a bite between bars.
Hidden Bars – A Unique Twist
For a unique twist, consider incorporating hidden bars in your route. Leeds has a myriad of hidden bars that offer a distinct experience. The Maven, for instance, is known for its vintage décor, award-winning mixologists, and an atmosphere that's right out of the '20s. Another hidden gem is the Tiki Hideaway on Call Lane, a Polynesian paradise with flaming cocktails and a beach-hut bar. These hidden bars add an element of surprise and adventure to your bar crawl.
Safety First
Safety is paramount. Never leave your drink unattended, and always keep an eye on your belongings. If possible, have a designated sober friend in your group who can ensure everyone stays safe and together throughout the night.
To wrap up, planning a bar crawl is a fantastic way to explore the Leeds bar scene. Remember to use your Leeds bar guide, be adventurous, and let the city's nightlife charm you. Happy crawling!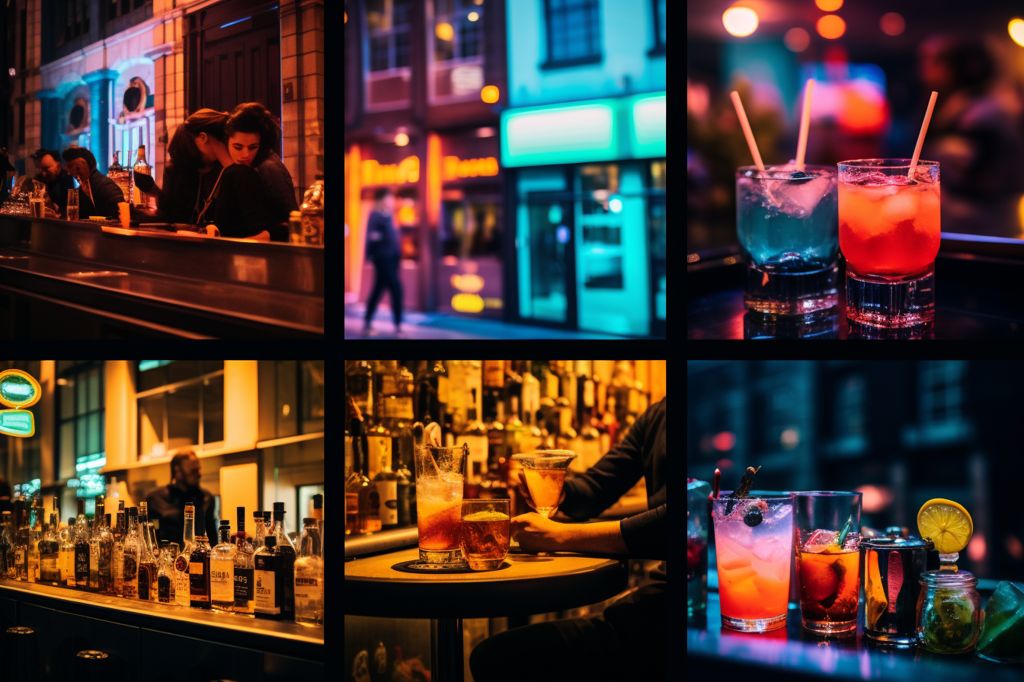 Wrapping Up the Leeds Bar Guide
Leeds, a city pulsating with dynamism, offers a unique blend of traditional pubs, innovative indie bars, and clubs that set a lively rhythm for the city's nightlife. Balancing the old and the new, these venues burst with creativity and offer a vibrant scene that caters to all tastes.
In our Leeds bar guide, we've journeyed through the city's bustling bar landscape, providing a glimpse into some of the most popular and hidden bars in Leeds UK. Tucked away behind period architecture and railway bridges, these bars offer everything from expertly crafted cocktails to rare craft beers, providing a multifaceted experience that goes beyond just having a drink.
Among these, Leeds boasts an impressive array of sports bars celebrating the city's rich sporting pedigree. For those seeking a unique experience, Leeds also hosts hidden gems like 'The Lost & Found', a cocktail wonderland, and 'Blind Tyger', a drinking den that transports you back to the prohibition era. Not forgetting the city's rooftop bars that provide panoramic views alongside a delightful drinks menu.
For the adventurous, we've provided a roadmap to plan a bar crawl in Leeds, combining both popular and hidden spots. This guide caters not just to drinking enthusiasts but to anyone looking to have fun in the city's diverse nightlife. Keep in mind, the city also prioritizes safety with initiatives like 'Ask for Angela', ensuring everyone can enjoy their night out without worry.
In conclusion, this Leeds bar guide provides an invaluable resource for those seeking to dive into the city's vibrant bar scene. Be it a cosy pub, a hidden speakeasy, or an energetic club, each venue has a unique story to tell. So, whether you're a resident or a traveller, we encourage you to explore, drink, and have fun in Leeds' many watering holes. Uncover the charm of Leeds and create unforgettable memories along the way.